Stamps mark 150th anniversary of Archibald Knox's birth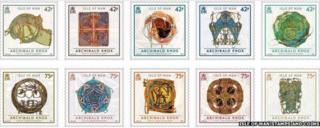 A set of stamps to celebrate the 150th anniversary of the birth of Manx designer Archibald Knox is to be released on the Isle of Man later.
Knox was an internationally renowned artist and designer and took much of his inspiration from the Isle of Man, particularly its Celtic crosses.
Working for London store Liberty & Co, he established himself as the foremost designer in the Art Nouveau movement.
Mr Knox was born in the Isle of Man in 1864 and died in 1933.
His designs for Liberty included silver, pewter, carpets, pottery, jewellery and textiles and made him a household name.
He also worked as a teacher, illustrator and, during the war, a censor at an island internment camp on the Isle of Man.
Knox had a lifelong fascination with the carved Norse and Celtic stone crosses which can be seen in many of his designs.
'Greatest achievement'
The images used on the stamps originate from Knox's illuminated manuscript The Deer's Cry, which he started whilst working at the Knockaloe civilian interment camp during WW1.
Chairman of the Manx Museum, Tony Pass, said the work is a masterpiece of lettering in watercolour and is widely acknowledged as his greatest achievement.
Mr Pass said: "The Deer's Cry... illustrates his love of the early Manx crosses and the Celtic and Viking heritage of the Isle of Man expressed in his distinctive interlace designs.
"His connection with the workshops of Liberty of London gave him a place in the Celtic arts and crafts revivals.
"A century later, his work is renowned across the world."
Maxine Cannon, general manager Isle of Man Stamps and Coins said the stamps are a "fitting tribute to someone who helped provide the foundations of Manx art and bring it to an international stage".
Several projects are planned across the Isle of Man this year to commemorate the anniversary.