Bishop opens Isle of Man real ale festival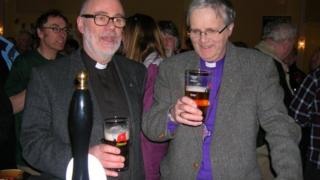 The Lord Bishop of Sodor and Man has opened a real ale festival with the "largest bar ever put together in the Isle of Man", organisers have said.
This year's CAMRA real ale festival at the Masonic Hall in Douglas will have 96 cask ales and 21 pumps serving beer from the island's five breweries.
Organiser Alan Cooper said this year's festival will have the "biggest bar ever seen on the Isle of Man."
The Rt Rev Robert Paterson opened the three-day festival on Thursday.
'Green beer'
Mr Cooper said: "This year we will have around 125 different beers, ciders and perries available.
"These will include beers from every brewery on the Isle of Man and many selected from all over the British Isles.
"We even have Britain's only green coloured beer on offer."
Last year's event attracted about 2,000 visitors and raised thousands for the Royal National Lifeboat Institution (RNLI).
This year's event will raise money for the Rob Vine Fund, which provides medical helicopters during the Isle of Man TT races, Manx Grand Prix and Southern 100.
Festival goers will also be entertained by a number of local performers.