Isle of Man motorist rescued after 20ft (6m) ravine plunge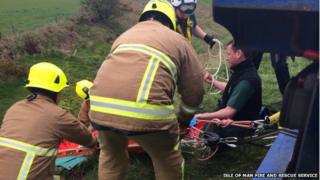 A man has been rescued after the car he was driving crashed 20ft (6m) down a ravine in the Isle of Man.
The Fire and Rescue Service's specialist rope team helped firefighters recue the driver, who was said to be in a "stable condition".
His car left the road near the Conrhenny Equestrian Centre and he was outside the vehicle when he was rescued at about 12:30 BST.
An FRS spokesman said the man had been taken to hospital for a check-up.
Three emergency vehicles were used in the recue, including a 4x4 Pinzgauer off-road vehicle.