Funeral for mystery Isle of Man body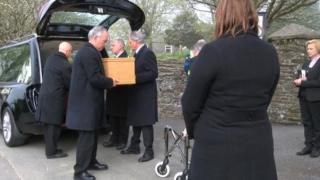 A graveside service has taken place at Lonan Church in the Isle of Man for an unidentified man whose body was discovered at sea last year.
It was found by fishermen working off the north coast of the island in April, and was recovered with the help of Ramsey lifeboat.
A post-mortem examination, including DNA tests, were carried out but the man's identity was never revealed.
About 25 people attended the service which was held on Tuesday morning.
The Reverend Dr Dee Dee Haines said: "Today happened because people still care about each other- it matters when someone passes, because it matters that they lived."
She added: "Sadly no one knows who this man was, but the Isle of Man is such a place of community, we still recognise that we are all part of one human family".
Police said: "Enquiries made with UK forces along with the missing persons bureau to try and identify the deceased, however, they were not successful".