TT stars appear in Manx Gaelic language promotion video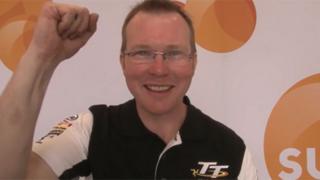 A group of well-known TT riders have appeared in one of a series of videos, made as part of a continuing campaign to promote the use of Manx Gaelic.
John McGuiness, Milky Quayle and Dan Kneen are among those filmed using the phrase TT Aboo which means Hurray for the TT races in Manx.
The Culture Vannin project is designed to give people "a light-hearted introduction to the language".
Manx Language Officer, Adrian Cain said the videos can be accessed on Facebook.
The TT stars video is one of many being launched on social media as part of Culture Vannin's Manx Gaelic Guide to the races.
A booklet has also been produced to provide language learners with key TT phrases such as Jedoonee Keoi (Mad Sunday), Kay er Giat y Clieau (mist on the Mountain Road) and Tannee-shiu er y çheu-chiare which means keep to the left-hand-side of the road.
Manx Gaelic is one of just six Celtic languages, the others are Irish, Scots Gaelic, Welsh, Breton and Cornish.
Culture Vannin, formerly the Manx Heritage Foundation, was established by Tynwald to promote the Manx culture.