TT 2014: Racer enters TT on bright pink bike to raise cancer cash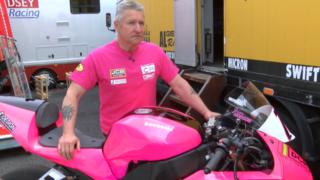 Experienced rider Jim Hodson will compete at this year's Isle of Man TT on a bright pink motorcycle to raise money for Cancer Research UK.
Following a crash before last year's TT a close friend, who had been diagnosed with three types of cancer, stepped in to help him compete with a bike.
The Wigan mechanic has competed in 32 TTs since making his debut in 1983 with a highest finish of second in 2002.
He will contest the Superbike, Superstock and Senior TT.
The pink Kawasaki will have its first outing in Saturday's Superbike race.
'Taken the mickey'
Hodson said: "I couldn't have competed without their support - it's been unbelievable.
"I've had a few funny looks as you don't get many pink bikes in the paddock but once I explain people have been very generous.
"A few have taken the mickey but they stop when they know why it is pink."
He added: "The TT is the best race in the world. It grips you and won't let go you just want to keep coming back to better your time and conquer the circuit."