Isle of Man veteran to receive Legion of Honour Medal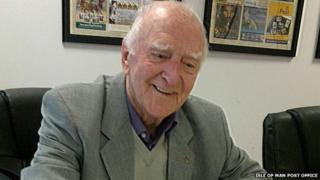 An Isle of Man WW2 veteran is to be awarded the French Legion d'honneur for his role in the country's liberation.
Hector Duff, 94, from Onchan will receive the medal from President of France, President Hollande, at the 70th anniversary of the D-Day landings.
The event, which is being held at Arromanches on 6 June, is the biggest since the 60th anniversary in 2004.
Mr Duff was part of the 6 June attack which saw more than 156,000 Allied troops storm the beaches of France.
The French Legion d'honneur medal, the country's highest decoration, was initiated by Napoleon Bonaparte in 1802.
The D-Day landings will be commemorated in the presence of The Queen and the Duke of Edinburgh as part of a three-day state visit to France.
Mr Duff, who was awarded the British Empire Medal (BEM) last year, was recently featured in a set of commemorative stamps issued by the Isle of Man Post Office to mark the 70th Anniversary of D-Day.