Funding sought for 1.4m Isle of Man capital revamp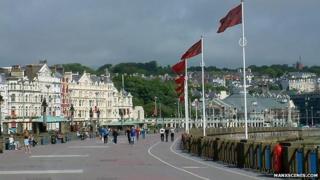 The Manx parliament is to be asked in July to fund the second stage of a multimillion-pound revamp for the capital of the Isle of Man.
The government said the second phase of the improvements to Douglas Promenade will cost £1.36m.
The work, on roads and pavements, is expected to centre between on the area of Loch Promenade and Regent Street.
Infrastructure Minister, Laurence Skelly said it was the first place tourists saw when arriving by ferry.
He added: "We hope this work will breathe new life into the area, support existing businesses and encourage more private sector investment."
If funding is approved the work is scheduled to take place between September and March.
The first phase of the scheme cost £1.6m for road improvements between the Sea Terminal and Victoria Street.
Phase three of the regeneration will affect the stretch between Regent Street and Strathallan.