Dragon Harald Fairhair set for Isle of Man visit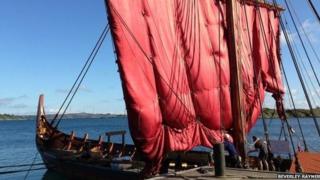 The largest replica Viking longship ever built is set to arrive in the Isle of Man later this month
The Dragon Harald Fairhair, hand-built in Norway over a period of two years, will arrive in Peel Harbour on 15 July, Manx National Heritage (MNH) said.
The longship's length (57ft/35m) is about half the size of a football pitch and it has 25 pairs of oars.
Named after Harald Fairhair, the king who unified Norway, the ship will spend one night moored in Peel.
Building the vessel was the dream of Norwegian businessman Sigurd Aase.
It was tested on the coast and fjords of Norway last summer ahead of a UK and Mediterranean tour this year.
It is based on the late-Viking Age Leidang ships of the Norse Sagas, which continued to be used in Norway into the early Medieval period.