IoM Viking camp in Tynwald Day celebrations 2014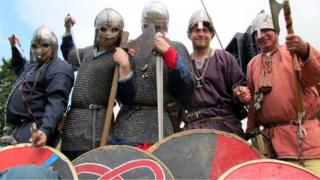 Organisers of a two-day Viking camp on the Isle of Man are preparing to welcome thousands of guests on Monday, the island's national day.
Tynwald Day is the only day of the year when parliament is held in the open air and the public get the chance to lobby the law-makers by presenting petitions.
The ceremony has been held in St John's for more than 1,000 years.
The Viking park is situated in Cooil y Ree, alongside Tynwald Hill, a site thought to be sacred in ancient times.
It will involve historic exhibits, story-telling and displays of combat.
Tynwald Day was first codified by the Manx parliament on the hill in 1417. New laws are promulgated in both English and Gaelic.
The ceremony will be streamed live on the Tynwald website between 09:30 and 15:30 BST.