Tynwald Day 2014: Thousands celebrate Manx national day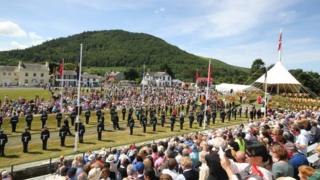 Thousands of people gathered in St John's to celebrate Tynwald Day, the Isle of Man's national day.
It is the only day when parliament is held in the open air and the public get the chance to lobby the law makers by presenting petitions.
Eight people exercised their right to petition the Manx parliament directly with issues ranging from assisted suicide to animal welfare.
The ancient ceremony has been held at Tynwald Hill for more than 1,000 years.
During the sitting, 11 acts were promulgated ranging from flood risk management to sun beds.
Tynwald Day was first codified by the Manx parliament on the hill in 1417 with new laws are declared in both English and Gaelic.
Thousands of people visited the site throughout the day to witness the spectacle and enjoy stalls and displays.
WW2 veteran Hector Duff, who was involved in the D-Day landings in 1944 received the highest Manx honour.
The 94-year-old from Onchan was recognised with the Tynwald Honour for "services in conflict and peacetime".
This year's Guard of Honour was provided by the Queen's Colour Squadron of the Royal Air Force and the Band of the Royal Air Force provided music.
A Viking camp was also located in Cooil y Ree, alongside Tynwald Hill, a site thought to be sacred in ancient times.
The working village included historic exhibits, story-telling and displays of combat.