Isle of Man hospital nurse staffing levels 'insufficient'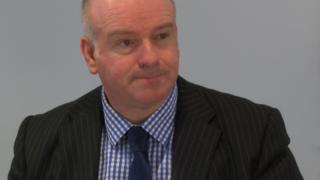 The number of nurses in the Acute Medical Unit at Noble's Hospital on the Isle of Man is "insufficient", according to an independent review.
The West Midlands Quality Review Service (WMQRS) said the unit had one nurse for every six patients during the day, and one to 10 at night.
The report also said nurses did not have the range of competences expected for work on an acute medical unit.
Health Minister Howard Quayle said concerns were being addressed.
The Acute Medical Unit (AMU) is the first point of entry for patients referred to hospital as emergencies by their GP, and those requiring admission from the emergency department.
"The AMU was staffed by a cohesive team who were clearly committed to the care of their patients and keen to improve the service offered," the report said.
'Moving swiftly'
A spokesman added that the department only met 35% of the required standards.
Other services scrutinised in the review were the Isle of Man's care for diabetes (which met 46% of standards), heart failure (34%), multiple sclerosis and motor neurone disease (40%), Parkinson's disease (34%), and cardiac rehabilitation (92%).
The £200,000 review, which is the second of 13 into the island's health service, focussed on acute medical admissions at Noble's Hospital and the care of people with long-term conditions in both the hospital and community setting.
The first phase, which took place last year, looked into accident and emergency, theatres and anaesthetics, and critical care.
Health Minister Howard Quayle said: "We have already begun work in several areas where the WMQRS has identified scope to enhance and develop our services.
"In addition we are moving swiftly to address any concerns that they raised".