Isle of Man stamps celebrate anniversary Peel P50 car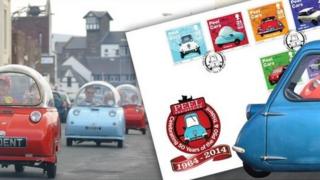 Isle of Man Post Office has launched a special edition postmark cover to celebrate the 50th anniversary of the world's smallest car.
The P50 was manufactured in 1964 by Peel Engineering which was based on the west coast of the Isle of Man.
The postal cover has six stamps including the P50 and the Trident- another car made by the firm.
A Post Office spokesman said the single and double-seater cars are among the Isle of Man's most famous exports.
Peel Engineering was founded by Cyril Cannell in the late 1940's and at the peak of production the company employed 40 people.
In 1964 the P50 car retailed at £199.00 compared to around £250 for a good motorbike, and with only 100 coming off the production line they are worth a lot more today.
It was available in Daytona White, Dragon Red, Capri Blue and Sunshine Yellow and it is thought there are 28 still in existence.