Lucia Porter crash car owner banned from driving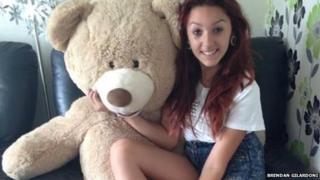 The owner of a car which crashed on the Isle of Man killing 14-year-old Lucia Porter has been banned from driving for nine months.
Andrew Reeday, 19, from Colby, pleaded guilty at Douglas courthouse to letting a friend drive his car without insurance or a driving licence.
The Ford Fiesta was crashed on the Switchback Road, near Peel, killing the Onchan schoolgirl on 8 March.
Reeday was in the car, along with Miss Porter and six others, when it crashed.
The teenager also admitted wasting police time.
As well as a nine-month ban, Deputy High Baliff Jayne Hughes ordered Reeday to serve 180 hours of community service, pay £300 in costs and retake his driving test after his ban is completed.
Craig Bridgewater, 18, from Peel, has been charged with causing death by dangerous driving.