Isle of Man bank to close branches in Douglas, Onchan and Ballasalla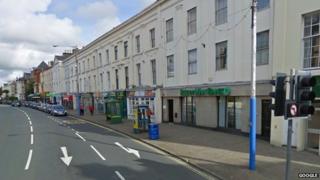 Three branches of the Isle of Man bank will close early next year due to a "fall in customer demand", the bank has announced.
Services in Ballasalla, Onchan and Prospect Terrace in Douglas are due to close on 27 February 2015.
The growth of telephone and internet banking has been blamed for a 30% fall in bank customers over four years.
Managing Director Bill Shimmins said the branches will be replaced by a mobile banking facility.
Two jobs are "at risk of redundancy" although all other roles will redeployed, he added.
The latest announcement by the Isle of Man bank follows the closure of the Laxey sub-branch in October 2013 and the Kirk Michael branch in August 2012.
The mobile bank is expected to operate in Onchan, Kirk Michael, Laxey, and Ballasalla to allow customers to pay in cheques, withdraw cash and collect foreign currency.