Isle of Man park in international cat breeding project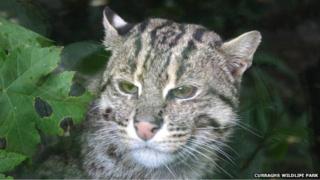 A wildlife park in the Isle of Man is participating in a global breeding project to protect a rare breed of fishing cat from extinction.
The animal, classed as endangered by the International Union for Conservation of Nature (IUCN), has been homed at the Curraghs Wildlife Park.
A park spokesman said it is one of only 200 living in captivity worldwide.
It is is hoped the animal, which has been named Arun, will breed with a female born at the park in 2012.
Fishing cats are an endangered species of cat from Asia, which challenge the common understanding that all cats hate water- the breed has developed webbed feet and live a semi-aquatic lifestyle.
Park Manager Kathleen Graham, said: "The fishing cat European Endangered Breeding Programme carefully co-ordinates breeding matches to ensure that the captive population are genetically healthy.
"There are also American region and Australian-Asia regions of the studbook, with all three regions co-operating on a global level to ensure, through captive population, that this cat does not become extinct".
In the wild, fishing cats can be found from Northern India to Sri Lanka, Burma and across the Thai peninsular to Java and Sumatra.