Planned parking price increases a 'nail in retail coffin' for Douglas retailers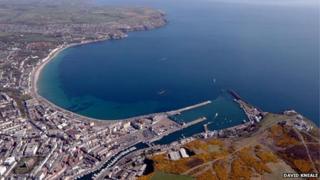 Proposed parking price increases in Douglas have been met with "total opposition" from the town's council.
The Department of Infrastructure's plans include pay-and-display parking on Loch Promenade as well as charging for school bus journeys.
The moves are part of the government's bid to raise £500,000 by April.
Councillor David Christian said the "ill-considered measures" would be "another nail in the coffin" for the town's retailers.
The move to put parking charges up follows a public consultation which ran until the end of July.
'Retail coffin'
The plans would also see the end of free school bus journeys and free parking at the airport.
Proposed changes
1. £25 charge for residential permits
2. Reducing two-hour disc zone
3. 50p increase in several Douglas car parks
4. Pay-and-display parking on Douglas Promenade
5. 50p charge for school bus journeys
6. Parking charges for civil servants and politicians
7. Free airport parking scrapped
8. Increase in eligibility age for pensioners' bus passes
Infrastructure Minister Phil Gawne said: "Increases on this scale will not be contemplated in the years ahead.
"Charging for services that have previously been free or heavily subsidised is never going to be popular."
Mr Christian added that the council is "only too aware of the government's need to make savings" but that the "whole tone of the proposals is unfair".
In 2010, the Isle of Man was left with a £175m hole in its budget - about a third of its projected total income - when the UK announced changes to its VAT revenue-sharing agreement with the island.
Since then about 600 government posts have been cut - 8% of all staff.
The date for the changes to be introduced has yet to be finalised.