TT 'World Series': Manx government's feasibility study costs £188,000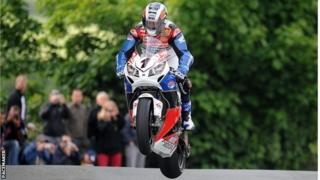 The Manx government has spent nearly £190,000 while exploring the feasibility of a TT 'World Series'.
Economic Development Minister Laurence Skelly confirmed to the House of Keys that £116,348 has already been paid, with £72,080 now due to the London-based Sports Consultancy firm.
Mr Skelly said the chance to develop the TT as a global brand warranted "significant" investment.
The TT races have been held on the Isle of Man since 1907.
Mr Skelly said the proposed 'World Series' would include events in the Middle East and the Southern Hemisphere and help promote the TT brand.
He said: "Over time it can provide a unique platform to showcase the island as a must-see visitor destination and attract inward investment on a world stage."
According to government figures, more than 43,000 people visited the Isle of Man during this year's races, compared to 31,000 in 2011.
Mr Skelly said the results of the feasibility study would be revealed to Members shortly.
The public will not see them as they contain "commercially sensitive information", he said.
The minister added that he could not quantify how much money the series could raise for the government but said renewed investment in the TT would "further enhance the profile of the event and the economic benefits to the island".
The government will seek a commercial promoter for the proposed 'World Series' in 2015.