Approval for £1.6m endoscopy suite sought from Tynwald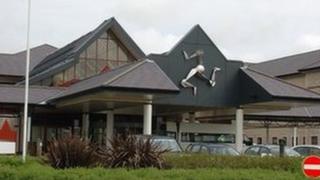 Approval will be sought from Tynwald this month to spend £1.6 million on the construction of a designated endoscopy suite at Noble's Hospital in Braddan.
About 3,500 endoscopies are currently carried out at Noble's each year, with a small number done at Ramsey Hospital.
A health spokesman said the self-contained facility was needed to enhance "patient privacy and dignity".
Endoscopy is a common procedure using cameras to examine patients' digestive and respiratory systems.
A health spokesman said the changes were required to meet current standards and guidance from UK health bodies.
Manx Health Minister Howard Quayle said endoscopy services have "evolved significantly over the past decade".
He added: "The new suite will provide state-of-the-art facilities and enable the department to adhere to the latest standards and best practice."
Tynwald approved £300K for design fees and enabling works for the suite as part of the 2014-15 budget.
If approved, construction of the new unit will start in December above the new Breast Unit, which is also currently being built.