Isle of Man post offices in Douglas and Ramsey to close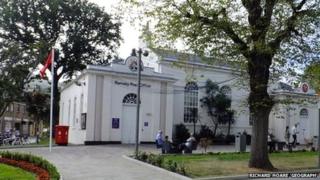 The two largest post offices in the Isle of Man are to close in the New Year with the loss of 19 jobs.
The branches on Regent Street in Douglas and Parliament Street in Ramsey will be replaced by sub post offices in nearby newsagents.
An Isle of Man Post Office (IOMPO) spokesman said the two branches account for more than two thirds of their annual £750,000 losses.
Campaigners described the closures plan as "a disgrace and a travesty".
The decision was made with the full backing of the Council of Ministers and staff were informed on Monday.
'Stand up and fight'
Campaigners behind an online petition calling for the post offices to be saved condemned plans to replace the branches with sub offices in local Spar shops.
"We need the post offices more than ever these days with regards to the elderly collecting their pensions weekly, posting parcels to the UK and abroad, and applying for all our vehicle licensing needs etc.
"We need to stand up and fight for what we believe in."
An IOMPO spokesman said it remained "deeply committed" to retaining its retail network on the Isle of Man.
Chairman Graham Cregeen said the move could deliver "substantial operational savings."