Isle of Man FOI bill due for 2016 pilot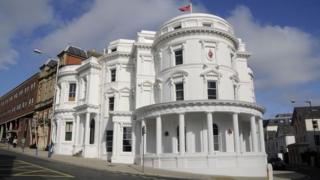 An Isle of Man freedom of information (FOI) bill could be introduced in 2016, the Manx government has said.
It would introduce a legal right of access to information held by public authorities from the start of the current government in October 2011.
Roger Tomlinson, of the island's Positive Action Group (PAG), said it was "vital in a modern democracy".
The bill will have its first reading in next week's House of Keys following a public consultation.
The Council of Ministers has agreed the FOI regime should start in 2016 with a pilot scheme at two government departments.
Mr Tomlinson said it was a move towards a "more open government" which would "alter its relationship with citizens."
A government spokesman said it could only be used by Isle of Man residents and its implementation would be phased in over two years.
The current code of practice applies to all departments and statutory boards but does not have the force of law.
Since it started in 1996 there have been 11 complaints of government wrongly withholding information, four of which were upheld.
Policy and Reform minister Chris Robertshaw said the legislation "strengthens the operation of open government."
The UK introduced a Freedom of Information Act in 2005.