Sudden Oak Death: Chibbanagh plantation to close while felled trees cleared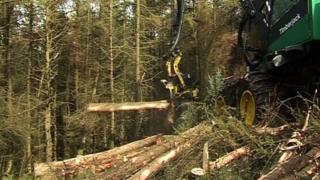 Chibbanagh plantation in the Isle of Man will be closed for up to three months while thousands of felled trees are removed, the government has said.
Ten acres of larch plantation near Douglas have been felled to prevent the spread of 'Sudden Oak Death' disease, which can cross species.
Around half of the island's larch population is currently infected.
Forester Jason Bolt said the plantation will be closed as a safety measure because of the heavy machinery used.
The Forestry Division has already cleared areas of infected trees in Tholt-y-Will, Stoney Mountain, Conrhenny and Axle Fell.
Sudden Oak Death, better known by scientists as Phytophthora ramorum, was first found on the island in Ballaugh during a routine aerial inspection in 2010.
Signs of Phytophthora ramorum
Wilting blackening foliage
Discoloured tops
Resin bleeding
The fungus-like pathogen causes the ramorum disease which is particularly serious in Japanese larch trees and rhododendrons.
In total, the island's Forestry Division plans to fell 1,111 acres of larch after an "explosion" of the deadly tree disease in recent years.
Larch makes up less that 10% of Chibbanagh, which also includes several species of mixed conifers including Spruce and Scots pine.
Around 4,000 trees will be removed before the plantation is restocked with a range of mixed broadleaf species.
The Department of Environment, Food and Agriculture (DEFA) also plans to create a new car park and picnic area.
It will be closed to the public from 1 December.