Isle of Man post office closures: House of Keys votes for three-month delay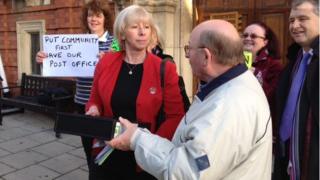 Politicians in the Isle of Man have voted to delay plans to close two main post offices after a debate in the House of Keys.
Last month the Isle of Man Post Office (IOMPO) announced the closure of branches in Douglas and Ramsey.
Campaigners described the move, which would mean the loss of 19 jobs, as a "disgrace and a travesty".
Chairman of IOMPO, Graham Cregeen said the three-month delay would cost the organisation a further £90,000.
He added: "We are not talking about closing post office services - this is about an alternative means of service delivery. We have to balance the budget."
It is proposed that post office services, currently provided at Regent Street in Douglas and Parliament Street in Ramsey, would be moved to sub post offices in nearby newsagents.
An IOMPO spokesman said the two branches account for more than two-thirds of their annual £750,000 losses.
It is estimated that the changes would save the organisation about £360,000 a year.
After a debate on Tuesday, politicians voted to give IOMPO more time to talk to staff and consider alternatives.
Chief Minister Allan Bell, who supported the delay, said: "If postal staff and the local authorities have other ideas about how to make these savings, I am sure the post office would be happy to talk to them about it.
"The times we are living in leave us no option to make changes but I do believe it was a mistake not to talk to the staff at an early stage. Had this happened we would be in a different position today."
The debate was called after a petition with about 2,000 signatures was handed into politicians on Tuesday.