Eddie Teare: Threats to IoM Treasury minister investigated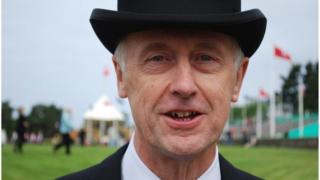 "Serious threats" made to a Manx politician and his family are being investigated by Isle of Man police.
Police said Treasury minister Eddie Teare had received "correspondence of a threatening nature" but did not reveal the specific content.
Sgt Vinny Lund said: "People do give politicians a hard time but in this case there is a line and the line has been crossed."
Mr Teare, said he is taking the matter "very seriously".
The 66-year-old married father-of-two has been the island's Treasury minister since 2011.
He said the "matter is in hand" but declined to comment further as he did not want to "compromise the investigation."
Mr Teare is Member of the House of Keys (MHK) for Ayre and was first elected in 2004.
Anyone with information is asked to contact police headquarters.