Douglas Santa dash: 224 Santas complete festive Manx run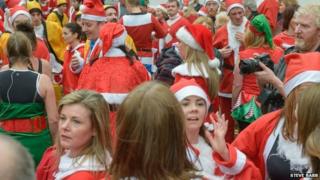 More than 200 people dressed as Father Christmas have set a new record for the Isle of Man's annual Santa Dash held around the streets of Douglas.
In total, 224 people completed the one mile (1.6km) race, with Kevin Loundes winning in four minutes 20 seconds.
Last year's record of 206 people was well beaten with Caroline Mayers and Karen Shimmin the first women home.
Race organiser John Hunter said: "It was a fantastic spectacle and a phenomenal turn out."
Last year's event raised thousands of pounds for a variety of local charities.
Mr Hunter said this year's runners raised money for about 40 local charities.
He said: "We had 10 runners in the first year in 2001 - so it is remarkable to see how it has grown over the years."