Move date for 'world's oldest yacht' in Isle of Man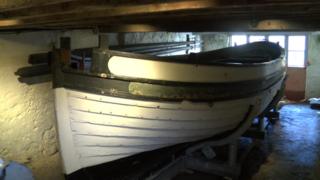 Archaeologists in the Isle of Man are preparing to move the "world's oldest yacht" for the first time in 200 years.
Manx National Heritage (MNH) said the Peggy will be moved from the Nautical Museum in Castletown on 28 January.
The vessel was built between 1789 and 1793 and is thought to be the earliest surviving example of a British yacht.
An MNH spokesman said the Peggy is one of the most important historic artefacts in the British Isles.
"Peggy requires urgent conservation work," he said.
"We are looking to conserve her, create a suitable environment in which to house her and to tell her story for future generations."
'Climate-controlled'
The boat will be lifted by cradle and then crane before being transported from the south of the island to a climate-controlled facility in Douglas.
Once there, Peggy, which was built for Castletown politician and bank owner George Quayle, will be stabilised, examined and conserved.
"The humidity of the new surroundings has to be lowered carefully in order to retard the corrosion of her iron fittings without damaging her timbers," added the spokesman.
"At the same time preservation work on her painted surfaces will also commence."
After Mr Quayle's death, the boat was locked away for almost 120 years, until she was rediscovered in 1935.
The conservation work, which is expected to take about five years, will involve a team of specialist archaeological contractors from England.