Released goshawk pair 'condemned to death', says owner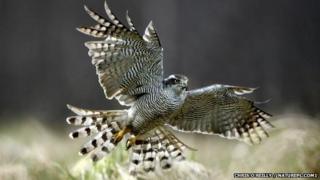 A pair of breeding goshawks have been "condemned to death" in the Isle of Man after they were released into the wild by vandals, their owner has said.
Police said the birds of prey were released from an aviary in Kerrowgarrow in Greeba using cutting tools.
Owner Alan Jackson who helps to rehabilitate injured birds, said the female bird has a dislocated hip.
"By releasing her into the wild they have condemned her to starvation and a slow and lingering death."
---
Goshawk facts
Proper name: Accipiter gentilis
An adult bird can weigh up to 1.5kg and have a wingspan of 127cm (4ft 2in)
Has a fierce expression with a distinctive white eyebrow
Preys on birds and mammals
There are 280-430 breeding pairs in the UK
Source:RSPB
---
He added that he borrowed the male from a friend and that the pair have successfully reared seven chicks.
Wildlife expert Chris Sharpe said freeing the birds was "crazy, foolhardy and of no kindness to them."
He added that their instinct will take over and they will attempt to hunt for birds and rabbits.
Wild goshawks do not breed on the island but have been sighted.
There are currently between 280 and 430 breading pairs of goshawks in Britain.