Robot Overlords: Isle of Man premiere for Sir Ben Kingsley film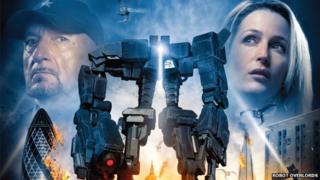 A feature film largely shot on the Isle of Man has premiered in Douglas.
Sci-fi movie Robot Overlords, featuring Oscar winner Sir Ben Kingsley and X-Files star Gillian Anderson, is aimed at a teenaged audience.
The plot of the film, written by Jon Wright, revolves around four children who rebel against robots which threaten to take over the world.
The English director, 43, said: "The Isle of Man is the perfect location for a film set in a coastal town."
'Distant galaxy'
In it, Earth has been conquered by robots with all human survivors confined to their houses.
People are forced to wear electronic implants and risk incineration if they attempt to escape.
Mr Wright said the idea for the movie came to him in a dream.
Isle of Man Film, now in its 20th year, is an agency in the Isle of Man which has co-produced more than 100 feature film and television dramas.
It promotes and supports production on the island with industry partners Pinewood Pictures.
Isle of Man Film's Mike Reaney said: "It was fantastic to attract such an ambitious film to the Isle of Man."
He said it was surreal to finally see it on the big screen after Jon (Wright) had first shared his "clear vision of his epic action sci-fi" when we scouted locations in 2012.
"He's done an amazing job of bringing the story to life," Mr Reaney added.
It was shot in several island locations in the summer of 2013 including Castletown, Douglas, and Peel, as well as King William's College.
The film, which was also partly filmed in County Antrim, Northern Ireland, is set for a UK release in March.