Isle of Man hits back after Ed Miliband tax warning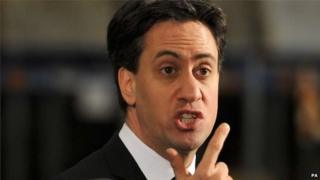 Ed Miliband failed to do his research about the Isle of Man before issuing a tax avoidance warning, Manx Treasury Minister Eddie Teare has said.
Labour leader Mr Miliband said the Isle of Man would be put on an international blacklist if it did not set up a public register of offshore companies.
Mr Teare said: "The Isle of Man has led the way in tax co-operation and transparency for the past 15 years."
Labour did not immediately respond when asked for comment by BBC News.
Mr Miliband recently told BBC News that billions of pounds were being lost in tax avoidance.
And he said the Crown Dependencies of Jersey, Guernsey and the Isle of Man must open their books within six months of a Labour government being elected, or face international action.
Mr Teare said Mr Miliband had not done his research and understood the huge steps that the Isle of Man has taken in recent years.
"The facts show that the Isle of Man has a long-established policy of complying with global standards, and working constructively with international standard setters like the OECD".
Last year the Isle of Man was one of only 20 countries to be awarded the Global Forum's top "compliant" rating.
It was also the first British dependency to sign an agreement with the United Kingdom extending the automatic disclosure of tax information in 2013.
Mr Teare added: "The Isle of Man continues to work very closely with the UK and the international community to progress measures to improve tax transparency.
"We would welcome the opportunity to discuss the way forward with Mr Miliband and his party colleagues."