Chris Robertshaw resigns over 'inadequate' government reform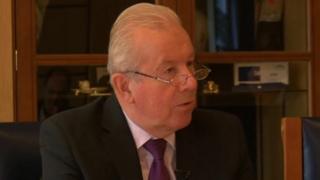 The Isle of Man's Policy and Reform Minister Chris Robertshaw has resigned after less than a year in the job, it has been confirmed.
He will remain as Member of the House of Keys but is standing down from his ministerial role with immediate effect.
The East Douglas MHK said his role had become "impossible".
Mr Robertshaw said he was unhappy with the rate and pace of reform in the Manx government, describing it as "inadequate".
He was appointed to the newly created Cabinet Office last April and tasked with streamlining government.
'Saddened and disappointed'
He said: "The truth of the matter is government is still far too large and departmental. It is imperative we change the way we do things, slim down and become much smarter.
"The Council of Ministers (CoM) faced a decision to carry on as they were or recognise the importance of working much more closely and they chose the former rather than the latter.
"It put me in an impossible position and I thought it best to step back and let someone else take over."
Treasury Minister Eddie Teare MHK said the CoM was "saddened and disappointed" but that they "respect" his decision.
Mr Teare, who is heading the Council during the Chief Minister's absence through illness, said a new Minister for Policy and Reform will now be appointed.
He said: "Chris is passionate in his convictions and he has worked tirelessly to help put the island's public services on a sustainable footing for the next generation.
"Managing change is always a challenge but, as the Budget on Tuesday will show, real progress has been made and it will continue."