Isle of Man Budget 2015: Tax cuts planned for low-paid workers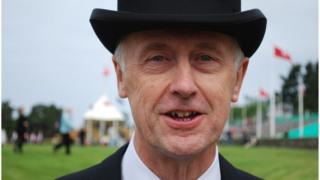 Plans to abolish income tax for minimum wage workers on the Isle of Man have been announced by Treasury Minister Eddie Teare during his Budget speech.
Mr Teare said increasing the personal income tax allowance beyond £14,000 could lift more than 10,000 low-paid people "out of the tax net."
Presenting his fourth Budget, Mr Teare told Tynwald it could be the "biggest change to income tax" in a decade.
The proposed change could come into force from 2016-17, he said.
The plans, subject to consultation and Tynwald approval, would see the end of the lower 10% band, leaving a single 20% income tax band.
Mr Teare said: "The last few years have been harsh on some members of our community and this year's budget is a cornerstone for next year's proposals.
"This budget focuses on fairness and funding vital services, particularly for vulnerable members of our community".
He said the government was on track to balance its budget for the first time since the UK announced changes to its VAT Revenue Sharing Agreement in 2010.
Since then, the Manx Treasury said 640 government posts had been cut - about 8% of all staff - with about 100 more to go this year.
Other Budget plans include an 82.7% rise in the carer's allowance from £61.35 to £112.10 per week. This will benefit more than 320 people at a total cost of around £850,000 a year.
The island's tax cap will be be increased by £5,000 to £125,000 for new entrants to the scheme, which Mr Teare said would generate in the region of £125m over the next five years.
Income thresholds for means-tested entitlement to child benefit will be reduced by £10,000, saving about £1m.
It was also announced that there will be an end to universal free TV licences for the over 75s.