Isle of Man scallop skipper fined £10,000 for illegal catch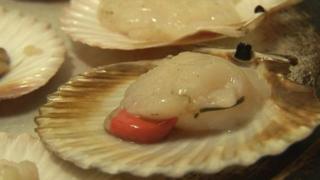 The skipper of an Isle of Man registered trawler caught fishing for king scallops in a restricted zone has been fined £10,000, government said.
The vessel 'Alena' was caught fishing in a closed scallop breeding ground within an area south of Chicken Rock.
The vessel was detained in Port St Mary where it was found to have 21 bags of scallops on board.
The Deputy High Bailiff imposed a £10,000 fine at Douglas courthouse and ordered the £1,550 catch be forfeited.
It was the third prosecution for breaching Manx fishing regulations this month.
Environment minister Richard Ronan MHK said: "Yet another prosecution for illegal scallop fishing reiterates the message to skippers about the risks of fishing in restricted and closed fishing zones.
"Protection and management of the scallop fisheries in Manx waters is important to promote the development and sustainability of stocks of these vulnerable and highly prized shellfish."
Manx territorial waters extend out to 12 miles around the island's coastline and contain a number of restricted zones.