Manx World War One events calendar to help 'avoid clashes'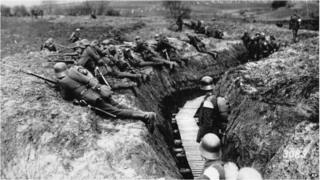 Organisers of World War One commemorative events in the Isle of Man are being encouraged to promote their plans on a central calendar.
Official records reveal more than 1,000 Manxmen were killed in the conflict out of more than 8,000 who were enlisted.
A government spokesman said events should be publicised on their calendar to help "avoid clashes".
Significant milestones in 2015 include the 100th anniversary of the sinking of the Lusitania by a German U-boat.
'Momentous impact'
A Manx National Heritage spokesman said: "The great war had a momentous impact on the Isle of Man, not just in the considerable number of lives lost, but also in the profound economic, social and political upheaval."
The Isle of Man played an important role in the conflict, supplying troops and vessels and running special camps for the internment of enemy aliens.
Official records show 8,261 men enlisted in the armed forces, which was 82.3% of the Isle of Man's male population of military age.
Of these, 1,165 gave their lives and 987 were wounded.
Any individuals or organisations planning to stage an event between now and 2018 are asked to complete and submit their plans online.