Isle of Man sea defences: Views sought on £32m plans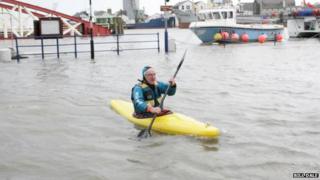 Residents have been invited to share their views on £32m sea defence plans in seven Isle of Man coastal towns.
The first of four presentations to highlight options published in a recent report will be held in Laxey and Castletown.
The report focused on the towns deemed most at risk of flooding with options including raising harbour walls and installing tidal gates.
Further talks will be held in Port St Mary and Ramsey on Friday.
JBA Consulting, who carried out the report, will present the findings of their research at the talks and explain the different options.
Flood protection options
Raised harbour walls
Set back walls
Tidal gates
Rock armour
Beach recharge schemes
Source: IoM Flooding and Wave Overtopping study
Improved sea defences are proposed for Castletown, Douglas, Laxey, Ramsey, Peel, Port St Mary and Gansey which all experienced coastal flooding during storms early last year.
Infrastructure minister Phil Gawne said government are looking at options that will "protect our towns and ports for the next 100 years".
Mr Gawne said the meetings on Thursday and Friday are an opportunity for local communities to play a "leading role in the decision-making process".
Thursday 26 February
11:00 - Working Men's Institute, New Road, Laxey
19:30 - St Mary's Church, Hope Street, Castletown
Friday 27 February
13:30 - Port St Mary Town Hall, the Promenade
18:00 - Ramsey Grammar School, Lezayre Road, West Hall