Isle of Man Legislative Council election: Six nominated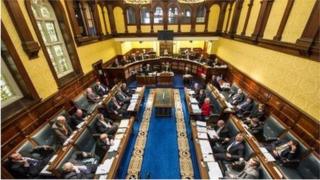 Six nominations have been received for the four available seats on the Isle of Man's Legislative Council.
David Anderson, David Cretney and Bill Henderson - all Members of the House of Keys - are among the nominees, as is current Council member Phil Braidwood.
Newcomers Paul Beckett and Christopher Kinley have also received nominations.
The four seats became vacant on 28 February when the terms of office expired for Mr Braidwood, Dudley Butt, Alex Downie and Alan Crowe.
An election featuring the six candidates will take place at a special sitting of the House of Keys on 16 March at 10:00 GMT.
The Legislative Council is the upper branch of Tynwald, the island's parliament, and has 11 members.
Each election candidate must have the support of at least 13 members of the House of Keys to be elected.
The Council includes eight elected members, the President of Tynwald, the Bishop of Sodor and Man, and the Attorney General.
Legislative Council Elections 2015: Six candidates vie for four positions
David Anderson MHK, nominated by Leonard Singer MHK
Paul Beckett, nominated by Kate Beecroft MHK
Phil Braidwood MLC, nominated by Eddie Teare MHK
David Cretney MHK, nominated by John Shimmin MHK
Bill Henderson MHK, nominated by Eddie Teare MHK
Christopher Kinley, nominated by Hn Phil Gawne MHK