New Rome role for senior Manx Roman Catholic clergyman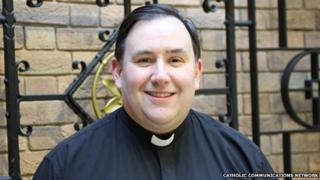 The Isle of Man's most senior Roman Catholic clergyman has been appointed to a new post in Rome, it has been announced.
The Vatican's Congregation for the Clergy has appointed Canon Philip Gillespie as Rector of the Pontifical Beda College.
Mr Gillespie said he was "immensely grateful" for the opportunity.
He will replace Monsignor Roderick Strange of the Diocese of Shrewsbury, who has held the position for 17 years.
Canon Gillespie is a priest of the Archdiocese of Liverpool and Dean of the Catholic community on the Isle of Man.
'Unimaginable privilege'
Archbishop Malcolm McMahon of Liverpool said he is a "very fine pastor who has considerable experience of the formation of future priests".
He told the Catholic Communications Network: "While I am truly sorry to be leaving the Isle of Man, I am immensely grateful for the privilege of being able to share my love of the ministerial priesthood."
The Beda College has been helping older men prepare for Catholic priesthood.
First opened in 1852, the Beda remains the responsibility of the Bishops of England and Wales and now receives men from English-speaking countries worldwide.
Mgr Strange who will now return to England to take up a position at Saint Mary's University in London, helped around 170 Beda men prepare for ministerial priesthood.
He described the role as an "unimaginable privilege".
"My prayers and good wishes will accompany Canon Gillespie as he continues this vital work," he added.