Isle of Man coastal run: Three men tackle epic 100-mile challenge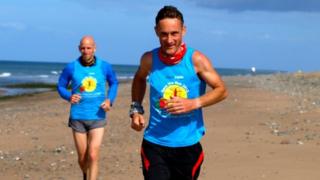 Three men are attempting to become the first runners to complete the Isle of Man's 100-mile (161km) Raad ny Foillan coastal footpath within 24 hours.
Manxmen Rob Sellors and Ben Scott will be joined in their record attempt by Richard Hurdle from Gloucestershire.
The current record of 25 hours and 10 minutes was set by Bob Baxter in 1985.
Scott, 42, said: "I know we'll make a pretty formidable team and if there's any chance of setting a record this is the team that can do it."
The three experienced ultra-distance runners are using the run to raise money for the Isle of Man's Children's Centre.
Sellors said the challenge was both "exciting" and "daunting."
The 48-year-old headteacher said: "The challenge of running around our beautiful island in one go has always held a strong appeal for me.
"Personally this is a challenge I would really like to attempt before I reach 50."
The men began their challenge from Peel promenade on Saturday at 14:00 GMT.