Isle of Man 'Dolly the Maid' mystery revealed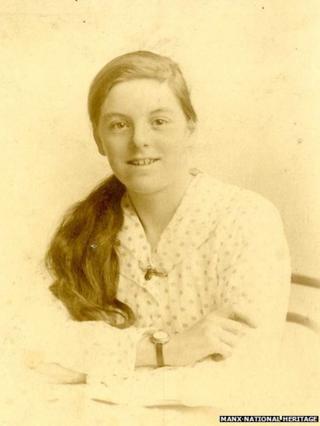 The mysterious life of a maid who worked as a merchant family's servant in the Isle of Man has been revealed following an appeal from a museum.
Manx National Heritage (MNH) was contacted by a relative of 'Dolly the Maid' ahead of the launch of a women's history project on the island.
Dolly Evans worked for the Gibb family at The Grove, Ramsey during the 1930s.
Nicola Tooms from MNH said Dolly's story was revealed to Manx historians by her nephew, Geoffrey Evans.
She said: "As the information started to trickle through, it became clear what an unusual woman she was.
"Dolly's real name was Gladys Rose Evans and she was born into a wealthy wine merchant's family from Chester.
Poultry Farmer
"As such, she would have had servants of her own- no-one would have imagined she would go on to become a servant herself."
Although Dolly could have chosen to live a relatively easy life, she chose to roll up her sleeves and take on manual work.
"It's unclear why but there are some clues," continued Ms Tooms. "Dolly was known to be sceptical about men - she also held a dim view of marriage.
"She wanted her independence and so she had to work - she was many things, including a poultry farmer and a maid. She worked hard all her life."
Dolly's story makes up part of Manx National Heritage's History in Heels exhibition which runs between March and December.