Isle of Man murder victim 'had face broken', court told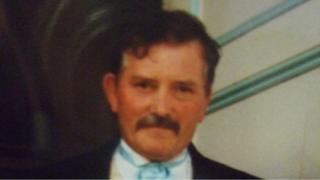 A man accused of murdering his wife's lover "broke every bone in his victim's face and almost all of his ribs", a court on the Isle of Man has been told.
Ballabeg man Neil Roberts, 60, was found dead at a house on Queen's Street, Castletown on 1 December 2013.
Prosecutor Linda Watts said: "Mr Roberts suffered 40 external injuries and extreme internal bruising."
Ian Anderson, 45 and of Queen Street, Castletown denied a charge of murder at Douglas Court House in April last year.
Mr Anderson's wife Alison had been having an "intimate relationship" with Mr Roberts, the court heard on Monday, and the pair had been looking for a property to rent together.
Addressing the jury, Mrs Watts added: "There is ample evidence to show that Mr Anderson attacked Mr Roberts and caused all the injuries which caused his death."
'Over-friendly'
She said Mr Anderson, who works within the aviation industry, picked Mr Roberts up from his home in Ballabeg on 30 November 2013.
The two men, according to the prosecution, then went to the Bay pub in Port Erin where they were caught on CCTV behaving in an "over-friendly way".
"They were very huggy with each other," said Mrs Watts, "as though they were in a relationship with each other."
The pair then drove back to Mr Anderson's home on Queen's Street, the court heard.
Mrs Watts said a fight broke out at about midnight, involving both men and Mrs Anderson.
In the following hour both men sustained injuries but Mr Roberts eventually fell to the floor in the living room.
After making a series of calls to members of his family in the UK, Mr Anderson dialled 999.
"During that call, Mr Anderson was calm and prepared," said Mrs Watts.
"His wife can be heard screaming, 'he's not breathing' in the background but Mr Anderson was calm - he showed a complete lack of concern for Mr Roberts."
The court heard that in a police interview Mr Anderson claimed he had been attacked by Mr Roberts three times and had acted in self-defence.
But the prosecution said the extent of Mr Anderson's injuries would indicate "considerable force" was used.
"The pathologist said the injuries would have required considerable force - perhaps even jumping on the body," said Mrs Watts.
The trial continues.