Isle of Man over-60s to lose unlimited free bus travel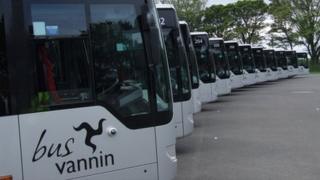 Over-60s on the Isle of Man lose their right to free unlimited bus and rail travel from Monday.
Under the new rules, holders of a 60+ travel card will have to pay half fare during peak time bus services.
The changes were announced in November as part of budget cuts to reduce the government's £5.5m travel subsidy.
Kate Beecroft MHK said it will reduce passenger loads during peak times and ensure that all "economically active" passengers contribute.
She added: "Changes are needed to ensure the long-term sustainability of the Isle of Man's bus services, which are currently subsidised to the tune of £5.5 million a year".
The restrictions affect travel for the over-60s on bus services before 09:00 and between 16:00 and 17:30 on weekdays.
Pensioner bus fares during off-peak hours, public holidays, bank holidays and weekends remain free.
Night Owls
Travel card holders will also be expected to pay half fare on all post-09:00 services operated by the Isle of Man Steam Railway, the Manx Electric Railway and the Snaefell Mountain Railway.
The half fare system will also be applied to the Night Owl bus services.
Last November, a raft of changes were announced including plans to gradually increase the age of eligibility for a pensioner bus pass from 60 to 65 by 2023.