IoM ferries cancelled due to Irish Sea gale warnings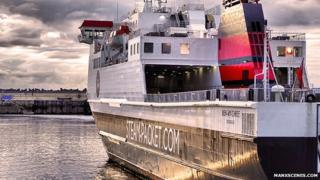 Gale force winds in the Irish Sea have forced the cancellation of all morning ferry sailings between the Isle of Man and UK on Tuesday.
The 07:30 BST journey from Douglas to Liverpool and the 11:15 return have been cancelled along with the 08:45 to Heysham and its 14:15 return crossing.
The Steam Packet Company said its evening and overnight crossings are also "subject to disruption."
All passengers are advised to contact the ferry operators.
A Met Office spokesman said winds could reach severe gale force nine, around 60 mph (97 km/h), this afternoon.
He added that there will be a gradual improvement overnight and into Wednesday.