About 4,000 more Manx voters join electoral register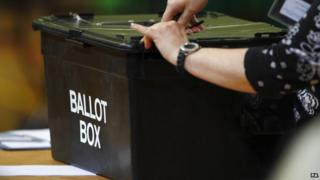 An extra 4,000 people have registered to vote in a shake-up of the island's electoral register, said the government.
A total of 47,323 people are now registered following the biggest update of the island's register since 2006.
Electoral Registration Officer Della Fletcher said the figures were "very encouraging."
Residents aged 16 and above, who have lived on the island for one year, are eligible to vote.
Isle of Man voting
More than 47,000 people on the Isle of Man have registered to vote
The total is an increase of about 4,000 since 2006
The Isle of Man's population is around 85,500
All Manx residents aged 16 and above, who have lived here for at least one year, are eligible to vote
The next general election on the island is 2016
Miss Fletcher said: "Having an accurate and reliable register of voters is important for the effective working of the democratic process.
"It is encouraging that so many people have responded positively in order to secure their right to vote. The figures are now the most accurate and reliable they have been for almost a decade".
According to government the list had become "distorted" by a "build-up of redundant entries" as individuals changed address or left the island.
The new voter list will be published on Wednesday with the next Manx general election set for 2016.