Isle of Man Manannan ferry cancelled for fourth day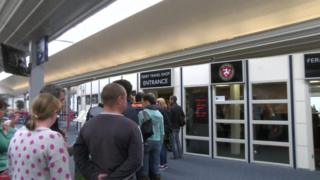 Ferry sailings between the Isle of Man and Liverpool are to be cancelled for a fourth successive day.
Sailings on the Manannan vessel between Douglas and Liverpool have been disrupted since Friday due to damage to its jet system caused by sea debris.
Passengers left stranded in the Isle of Man have described the ferry company's communication as "horrendous".
The Isle Steam Packet Company said damage was "more extensive" than first identified and offered its apologies.
It said all passengers booked on Wednesday's 15:00 BST sailing from Douglas to Liverpool will be automatically transferred to Ben-my-Chree's 19:45 sailing to Heysham and a coach transfer will be provided for passengers to Liverpool.
Passengers booked on the 19:15 sailing from Liverpool to Douglas will be automatically transferred to Thursday's 02:15 sailing from Heysham, said the company.
A coach transfer for foot passengers will be provided leaving at 21:00 on Wednesday.
The firm said it had secured a charter from P&O Ferries to cover Wednesday's Manannan service between the island and Belfast although it will leave from Larne and not Belfast.
Passengers have posted comments on the Steam Packet Company's Facebook page complaining of being unable to get through to the firm's customer services telephone line.
Runner Michael Long from London who travelled to the island for the Isle of Man's Easter Festival of Running described communication as "horrendous."
"We were delayed by 10 hours getting here on Friday and I missed my race.
"Then I receive a text to say the ferry had been cancelled and to call. When I called there was no answer and I am faced with a huge queue and missing another day's work.
"It's a beautiful island but I won't be travelling by ferry here again."
Chief executive of the Isle of Man Steam Packet Mark Woodward said: "We again offer our sincere apologies to passengers for the continued disruption.
"We are striving to do all that we can to minimise the repair time of Manannan and restore normal operations as soon as possible."