'Largest ever' ale festival opened by TT star Dave Molyneux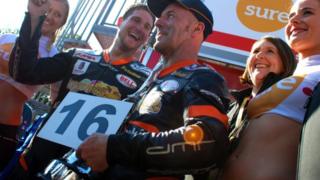 Manx TT star Dave Molyneux has opened the "largest ever" Isle of Man real ale festival in Douglas.
The sidecar star, who has won 17 times around the Mountain course, said he was delighted to open the event, which boasts the biggest bar in Manx history.
Organiser Alan Cooper said this year's festival will offer more than 130 beers from all over the British Isles.
The three-day event is being held at the Villa Marina after 2,000 people came to last year's at Masonic Hall.
'Unusual and quirky'
Mr Cooper said the 132 beers available at the festival - organised by the Campaign for Real Ale (Camra) - will mean it has "doubled in size" since it was first held in 2011.
In addition to beer, 38 ciders and perries will also be available.
Mr Cooper said the festival is for people who relish the opportunity to try the "unusual and the quirky".
This year's festival will feature beers from every brewery on the Isle of Man and raise money for the Joey Dunlop Foundation, which aims to create specialist accommodation for disabled visitors to the Isle of Man.
Festival goers will also be entertained by a number of local performers.