Isle of Man real ale festival attracts 3,000 visitors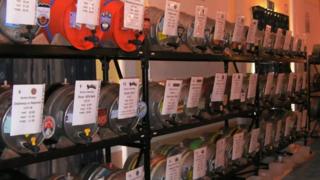 More than 10,500 pints were drunk by about 3,000 visitors during a three-day real ale festival in the Isle of Man, organisers have said.
The Campaign for Real Ale (Camra) event featured 150 different beers, ciders and perries - with all five breweries on the island represented.
Organiser Alan Cooper said 1,000 more people attended the three-day festival at the Villa Marina than in 2014.
It was opened by 17-time TT sidecar winner Dave Molyneux.
Money was raised for the Joey Dunlop Foundation, which aims to create specialist accommodation for disabled visitors to the Isle of Man.