Neil Roberts murder trial: Jury sent out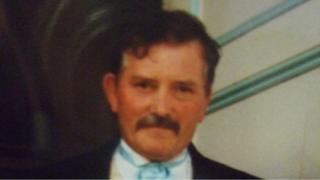 The jury deliberating in the trial of a man accused of murdering his wife's lover in the Isle of Man in 2013 has been sent out to consider its verdict.
Neil Roberts from Ballabeg was found dead at a house on Queen's Street in Castletown on 1 December 2013.
Ian Anderson, 45, and of Queen Street, Castletown denies murdering Mr Roberts in a jealous rage.
Deemster Alastair Montgomerie told the jury to consider if Mr Anderson had been acting in self-defence.
During the trial, prosecutor Linda Watts told the court a fight broke out at about midnight, involving both men and Mrs Anderson.
In the following hour, both men sustained injuries but Mr Roberts eventually fell to the floor in the living room.
Given the "catastrophic catalogue of injuries" sustained by Mr Roberts, there was no question that Mr Anderson had intended to kill him, claimed the prosecution.
The defence said Mr Anderson had been subjected to a "high level of provocation over an extensive period of time" in the lead up to Mr Robert's death.
His wife and Mr Roberts had, for months, repeatedly lied about their affair, telling Mr Anderson "it was all in his head", added the defence.
Something which drove him to becoming "morbidly jealous", according to Forensic Psychiatrist Dr Ramneesh Puri.
In his evidence, Dr Puri said that Mr Anderson had a personality disorder which could be classed as "severe".
Addressing the jury Deemster Montgomerie said: "You must ask yourselves if, at the time of the offence, the defendant was suffering from an abnormality of mind - a state of mind different from any other reasonable person.
"Did his condition impact on his ability to control himself?"