Isle of Man Legislative Council: Three nominated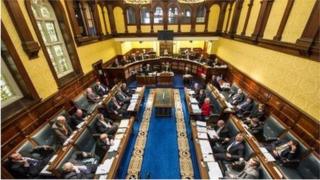 Three men have been nominated for the two remaining seats on the Isle of Man's Legislative Council.
Last month Bill Henderson and David Cretney, both currently Members of the House of Keys (MHKs), were elected to the upper chamber in the first vote.
A second round of voting will take place on 6 May during a special sitting of the House of Keys.
The three nominees are David Anderson and Tim Crookall - both MHKs - and current Council member Phil Braidwood.
They all failed to gain the support of 13 MHKs - the minimum number of votes needed.
Advocate Paul Beckett and lawyer Christopher Kinley have not been nominated for the second round.
The Council includes eight elected members, the President of Tynwald, the Bishop of Sodor and Man, and the Attorney General.
The Legislative Council is the upper branch of Tynwald and primarily acts as a revising chamber for bills.
It has 11 seats, of which four became vacant last month when the terms of office expired for Mr Braidwood, Dudley Butt, Alex Downie and Alan Crowe.