Tower of Refuge walk: Thousands expected in Douglas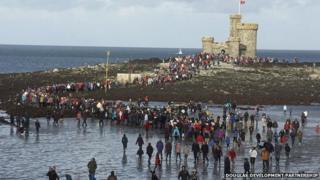 Thousands of people are expected to take part in a guided walk to a refuge for victims of shipwrecks off the Isle of Man coast later.
The Tower of Refuge, built in Douglas Bay in 1832, was the idea of Royal National Lifeboat Institution (RNLI) founder Sir William Hillary.
Last year, more than 3,400 people took part in the event which is in aid of the RNLI.
The walk can only be completed on foot during certain tidal conditions.
Due to health and safety reasons, visitors to Conister Rock are not permitted to enter the tower itself.
The RNLI said it was only possible to walk to the tower during the spring and autumn low tides and people should not attempt to reach it on their own.
The tower was designed as a shelter for the crews of vessels that were wrecked on the nearby reef.
Sir William Hillary, who launched an appeal in 1824 that led to the foundation of the RNLI, was a member of the Douglas lifeboat crew.
The event is due to start at approximately 18:00 BST.