Isle of Man TT: Road repairs to Mountain Road completed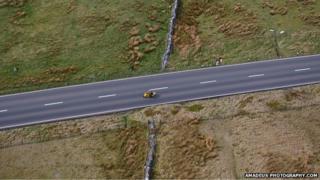 Work to improve part of the Isle of Man TT course has been completed ahead of schedule.
"Essential maintenance" to the mountain section between the Creg-ny-Baa to Ramsey Hairpin means it can now remain open until the 29 May, the government has said.
Infrastructure minister Phil Gawne said the safety improvements will provide "year-round benefits for motorists."
The TT races see riders compete at speeds of 200mph on closed roads.
More than 43,000 people visited the Isle of Man during last year's event - about half the island's population.
An infrastructure spokesman said improvement works included resurfacing, ditching, signage and painting.
Safety equipment including straw bales and foam barriers were also installed.