Manx Classic Rally 2015: Cars spanning 104 years start race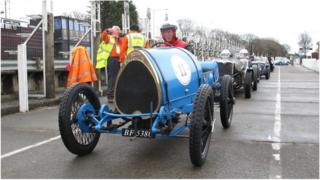 One hundred cars spanning 104 years of racing will begin the Manx Motor Racing Club's (MMRC) three-day Classic sprint and hill climb later.
Cars dating back to the Edwardian era and including vintage, classic and modern day vehicles will compete over three timed stages around the island.
MMRC secretary Shely Bryan said it will be an "exciting and high-octane event".
The event opens with the traditional Governor's sprint, with spectators watching from the TT grandstand.
Manx Classic Rally 2015 stages
Thursday: Governor's Sprint, Douglas: Roads closed: 12:00 to 15:00 and 18:00 to 21:30
Friday: Creg Willey's Hillclimb, Glen Helen: Roads closed: 09:00 to 17:00
Saturday: Lhergy Frissell Hillclimb, Ramsey: Roads closed: 09:00 to 18:00
The cars will start in the TT pit lane then travel back along Glencrutchery Road, through Governor's Dip to the finish on the TT old road at the Nook.
Saturday's final stage, the Lhergy Frissell hill climb, again uses part of the TT course, from Barrule Park to the 26th milestone.
Ms Bryan said they have received entries from cars made between 1911 and 2015.
This year will also feature a new class dedicated to the manufacturer Bugatti.